Funnels and Valves
Müller Funnels /Hoppers and Valves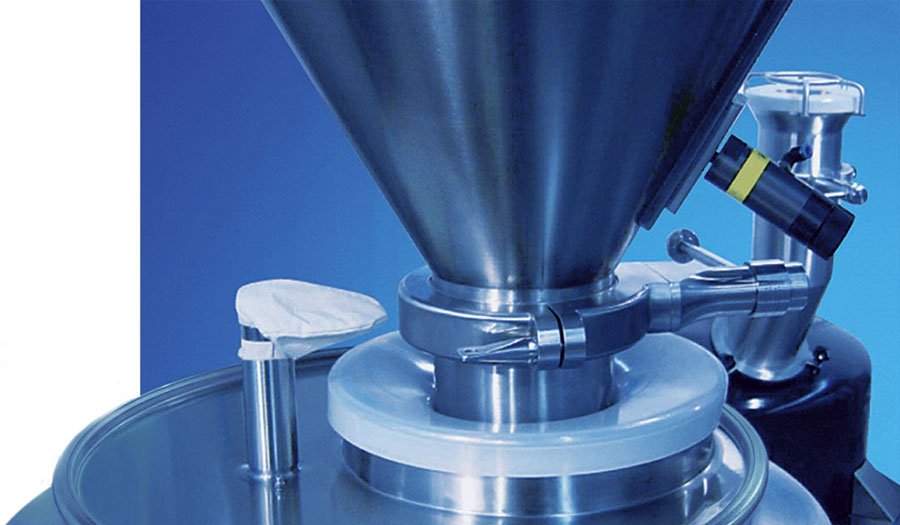 The Müller funnel/hopper system sets new standards for safety, speed and cost-effectiveness. Our hoppers are specially designed for the reliable, dust-free and metered discharge of drum contents. Ingenious simplicity — simply fit the hopper manually, close the clamping ring, and it is ready to go. The patented MC butterfly valve makes cleaning simple and quick.
Various discharge aids ensure the efficient emptying of products that do not flow readily:
The hoppers can be fitted with butterfly valves of various diameters for all Müller lidded drums from Ø170 mm to Ø800 mm.
The hoppers are symmetric with 60°or 90° cones or asymmetric.
Cones with special angles can also be supplied
320 grit polished finish on surfaces, Ra ≤ 0.6 µm, electrochemically polished finish and Halar or PTFE coatings also available for special duties
Müller MC Butterfly Valve
This butterfly valve was developed specially for the pharmaceutical industry and is currently used whenever frequent changes of product take place. It can be disassembled quickly by hand without needing any tools, making it extremely easy to clean. Whether actuated by manual lever, pneumatic actuator or electrical positioner – the patented MC butterfly valve gives you control over all handling interfaces.
Learn more about our Funnels and Valves