Containment and Transfer Systems
Müller Containment Split Butterfly Valve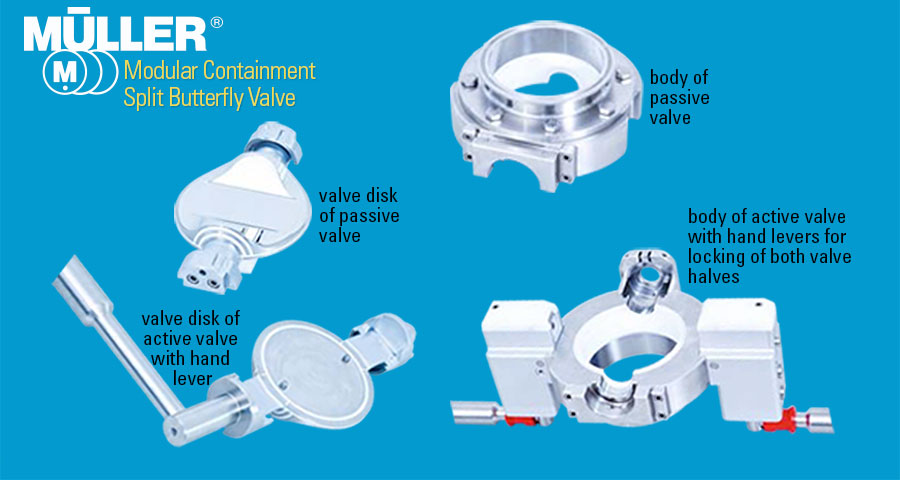 The Müller Containment Split Butterfly Valve MCV is in two halves: the active and passive disks. The active disk incorporates the mechanical system for locking both halves together and a manual lever or actuator for opening and closing the valve. The active half of the valve is fitted to the vessel filling or emptying nozzle, and the passive half to the intermediate bulk container. The two halves of the butterfly valve (active and passive disks) must be docked together in order to open the valve. The ruggedly constructed and GMP-compliant locking device ensures accurate location and the safe docking when the two halves are connected. When both halves of the valves are locked together, the system is closed to the atmosphere and the valve can then be opened – manually or automatically, whichever way you prefer.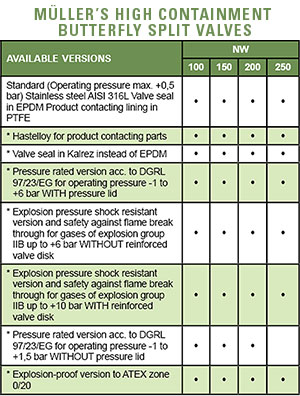 By adopting the Müller Containment Split Butterfly Valve MCV in your production processes, you ensure your staff's health and that the product stays 100% pure.
The valve system can be cleaned quickly and simply, thus reducing production line downtime. A valve disk can be replaced in less than two minutes.
User benefits:
Valve disks locked closed automatically when not docked together
Cleaning without removing the seal
Easy-to-wipe flat surfaces
Pressure- and vaccum-rated version available
No solids build up and product trapped between valve disk and PTFE seat
Learn more about our Containment and Transfer Systems