UltraClean Drums
Müller Stainless Steel Drums with Lateral Outlet
Müller's lateral outlet drum guarantees complete drum emptying even under low head-room conditions.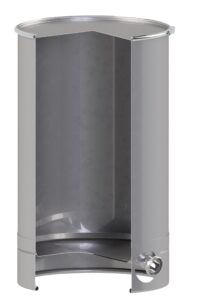 The following features are offered by Müller lidded drums:
Volumes from 3 to 400 L in various diameters
Lateral outlet available in customer specific size and type
Stainless steel in AISI 304, AISI 321, AISI 316L and 316Ti grades as well as Hastelloy and other special materials
UN certified for solid and liquid products
320 grit polished finish on surfaces for optimum product discharge, Ra ≤ 0.6 μm
Electrochemically polished finish and Halar or PTFE coatings also available for special applications
Cylindrical ultra clean lidded drums in stainless steel feature rounded body, calibrated edges, butt-welded body and base seams. Drums are smoothed and polished with jointless seals and vulcanized clamping ring with hand lever.
Learn more about our UltraClean Drums